The test material were rooted cuttings of petunia (Petunia x atkinsiana) "Dark Red", planted on  16th of April in pots P11 in standard peat substrate. The experiment was continued until 28th of June 2019. The plants, leveled in height and quality, were separated into 4 combinations and placed in a grow room in a constant temperature of 20°C. In each combination 15 plants were placed. The following parameters were measured in 6 periods (from 16th of April to 28th o June): height of plant, number and surface area of leaves, number and diameter of flowers, diameter of plants. The source of light consisted of LED lamps by a PLANTALUX. The results were compiled statistically using one-way ANOVA1, and the means were compared using LSD test at P=0,95.
Research was conducted by DSc (habilitation) Agata Jędrzejuk from Department of Ornamental Plants od Warsaw University of Life Science in Warsaw, Poland.
Results
Surface area of a leaf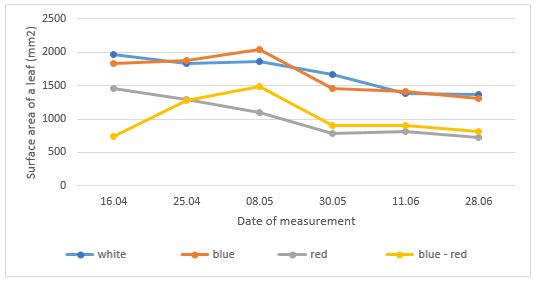 Plants growing in conditions of greater participation of white light and blue light had definitely bigger leaves than plants growing under red light and a mix of red and blue lights, on all dates of measurement. The leaves of petunia growing in conditions of greater participation of red light had the smallest leaves and their surface area has been decreasing with each passing date of measurement.
Diameter of plants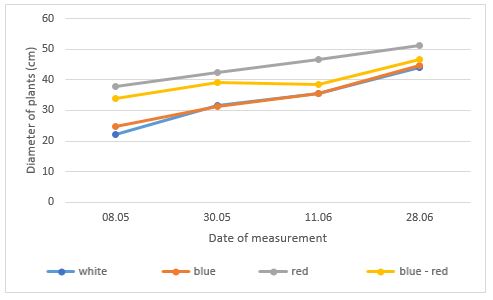 The measurements of the diameter of plants have been taken from 8th of May to 28th of June. Plants growing in conditions of greater participation of red light were characterized by the biggest diameter of plants on all dates of measurements. On the last day the diameter of above-mentioned plants reached on average 50 cm. The smallest diameter reached the plants from the control group (100% white light participation) – 43,9 cm.