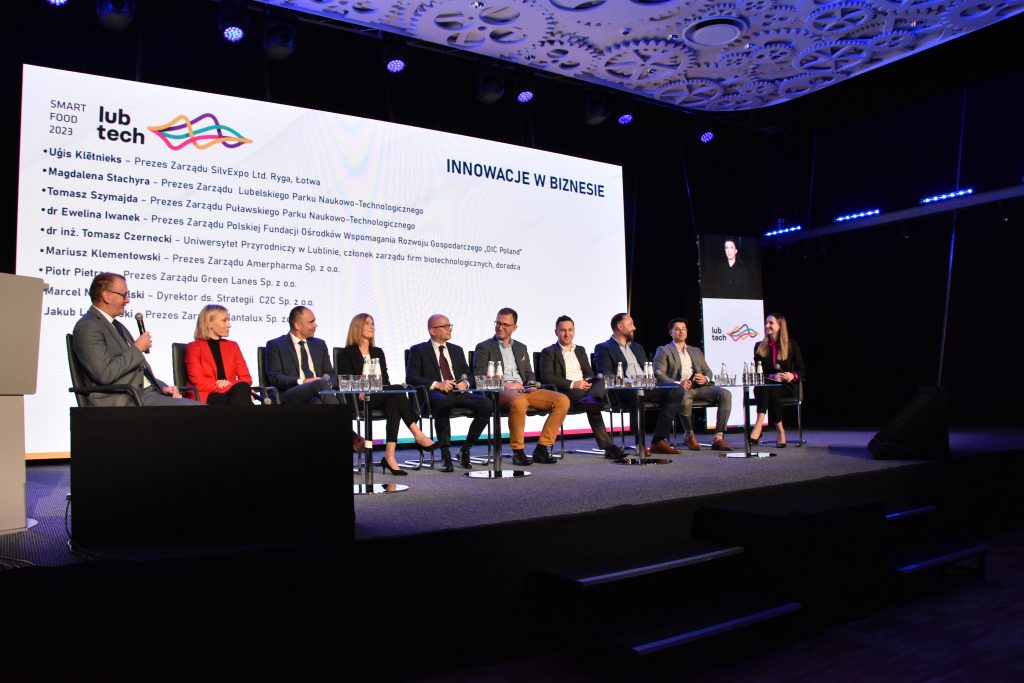 On November 15, 2023 at the Lublin Conference Center in Lublin regarding the LubTech Smart Food 2023 conference. The event is dedicated to advanced technologies in food design and production, including digital technology, consistent with the pan-European trend of the Green Deal – from farm to fork, using circularity, respect for the environment and use of resources.
During the events, three panels dedicated to new technologies were held:
New technologies in agriculture. Cultivation, fertilization, waste management, reduction of house gas emissions.
Food design and safety.
Innovations in business. New Products and solutions. Digital technologies.
In the control panel, which focused on start-ups, new solutions, innovations and technologies in business, the main shareholder from the SME sector from our region:
Mariusz Klementowski – CEO of Amerpharma Sp. z o.o.,
Piotr Pietras – CEO of Green Lanes Sp. z o.o.,
Marcel Nowosielski – Strategy Director of C2C Sp. z o.o.,
Jakub Lachowski – CEO of Planatalux Sp. z o.o..
Not available to Business Environment Institutions:
Lublin Science and Technology Park headed by Magdalena Stachyra, CEO,
Puławy Science and Technology Park headed by the CEO, Tomasz Szymajda
Dr. Ewelina Iwanek – CEO of the Polish Foundation of Economic Development Support Centers "OIC Poland"
The panel also hosted Dr. Eng. Tomasz Czernecki – Head of the Central Research Laboratory of UP and connected online with Ugis Kleteks – CEO of SilvExpo Ltd. Riga, Latvia.
The panel moderators were: Elwira Lorenz – acting Director of the Department of Economy at the Marshal's Office of WL and Dr. Mariusz Sagan – Director of the Department of Strategy and Entrepreneurship at the Lublin City Hall.
The conference was hosted by Dr. Hab. Bartosz Sołowiej, prof. UPL.