Beginning
We are Plantalux – a family-owned company located in Lubelskie voivodeship (Eastern Poland) that deals with advanced technology of enhancing plant growth in greenhouse production. Form the very beginning we have been forming this company together: Jacek Lachowski (father, on the left), Rafał Lachowski (the eldest son, in the middle) and Jakub Lachowski (the youngest son, on the right).
Each Plantalux product is a fruit of Jacek's over 30 years' experience as an engineer and Jakub and Rafał's innovative approach. We have been in lighting industry since 2011, during that time we have established close connections with research and development institutions, universities and international electric components providers. Due to that we deliver state of the art lighting that meet all international standards and fulfill all customers needs.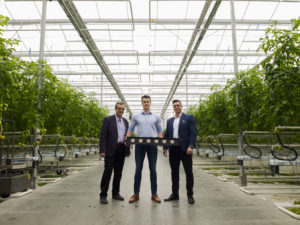 Progress
Our efforts have been recognized by industry organizations i.e.  awarding prizes of the Professor Szczepan A. Pieniążek (Orchard and Vegetable Fair) for contributions to the development of horticulture.
The work we put into growing crops in a strictly controlled environment and expanding into new markets has been recognized by the international business magazine Forbes (read more) or the global leader in professional consulting and auditing services EY by being nominated for Entrepreneur of the Year 2021 (read more).